If you've ever had a health-related issue in Nigeria, then you will probably understand that it is extremely difficult to fund your treatment and navigate the healthcare system.
In view of this, BellaNaija launched the BN Community Centre. This online platform will feature calls for help as submitted to us.
This includes information, photos and account numbers.
***
31-year-old Chukwunonso, who owns a sports betting shop in Rivers State, has been battling acute renal failure for a year.
Chukwunonso in August 2018 visited the hospital in Port Harcourt and was diagnosed with the disease. He was put on dialysis, which he has been receiving three times a week since then.
To save his life, though, his doctors have revealed he will need a kidney transplant.
The cost of his thrice weekly dialysis, with an injection of Erythropoietin cost ₦135,000 weekly.
To get a transplant in India, Chukwunonso will be needing ₦15,000,000. The cost includes the transplant, transportation, and anti-rejection drugs for a year.
Chukwunonso's family, friends and doctors are appealing to the government, non-governmental organisations and private individuals to help save his life.
They are grateful for any help you can render through this account number:
Account Name: Ezeamama Chukwunonso
Account Number: 3042320642
Bank: First Bank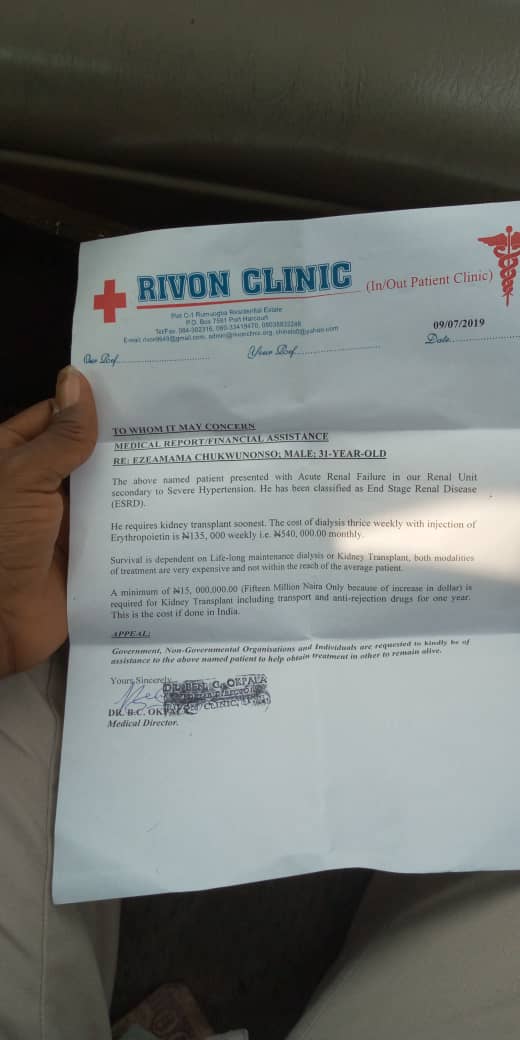 The post BN Community Centre: Let's Help Chukwunonso Get A New Kidney appeared first on BellaNaija – Showcasing Africa to the world. Read today!.